FOR LEASE- BREAKWATER PROPOSED NEW RETAIL CENTER SWC Palm Avenue & 9th Street Imperial Beach, California!

Oct 30, 2014 12:22AM ● Published by Paul Spear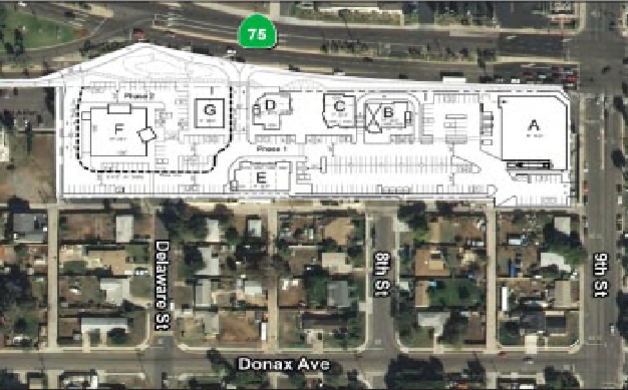 Retail Insite of San Diego (
www.retailInsite.net
) a member of "ChainLink Retail Advisors"  (
http://www.chainlinks.com/pages/home
 ) with national retail connections has a 10 page document up on the internet ( 
http://www.retailinsite.net/downloads/imperialbeach_palmx9th.pdf
 ) what looks like an advertisement for leasing space at the Breakwater Town Center. According to "ChainLink Retail Advisors" website:
ChainLinks is the leading retail-only real estate services and commercial property brokerage organization in North America serving America's premier retailers, landlords, and investors.
This would seem to confirm the statements made in the October City Council meeting October 1st, 2014 that with a strengthening in the economy the focus has moved from trying to get local businesses to a shift to businesses with a nationwide presence!
Attempts were made to contact the agents listed in the ad. However, the person who answered the phone at the Retail Insite directed me to a specific agent that she said was handling the leasing project. When I looked the Agent up on the Retail Insite website, I came up with just some of the following: "
Matt specializes in landlord / tenant representation throughout the San Diego, Riverside and San Bernardino Counties. He is actively marketing retail centers in San Diego and is currently the leasing representative for landlords such as Regency Centers, Sudberry Properties, Federal Realty, Donahue Schriber and Euston Management."
All information is believed to be from reliable sources but we assume no responsibility for inaccuracies. 
SB Tribe Youth Football is holding Spring Season Conditioning this Week at Montgomery Waller Com...

---
The Sports Park Gym hosts The County of San Diego Aging and Independent Services free Tai Chi cla...

---

The Design Review Board is a City Council appointed Board whose members are charged with the revi...

---

Event Details: What: Community Job Fair Who: Port of San Diego, Dick Miller, Inc., project s...

---

Dear SunCoast Owners & Supporters Are you interested in helping to spread the word about the S...

---

Imperial Beach volunteer CERT (Community Emergency Response Team) which is a national program. Me...

---
Come Out Friday Night and Sing Your Favorite Songs or Just sit Back and Enjoy the Fun as the Flee...

---

Every Friday Night Enjoy Classic VW's you can come down and see the Wolfpack VDub Car Club of Imp...

---
It looks like we don't have any events for this date. You can always add an event.
The Sports Park Gym hosts The County of San Diego Aging and Independent Services free Tai Chi cla...

---

Avocado and Citrus Trees are the month of January 2018 Farming Fresh Program at IB Library

---
SB Tribe Youth Football is holding Spring Season Conditioning this Week at Montgomery Waller Com...

---

The Sports Park Gym hosts The County of San Diego Aging and Independent Services free Tai Chi cla...

---

The Design Review Board is a City Council appointed Board whose members are charged with the revi...

---

Event Details: What: Community Job Fair Who: Port of San Diego, Dick Miller, Inc., project s...

---

Dear SunCoast Owners & Supporters Are you interested in helping to spread the word about the S...

---

Imperial Beach volunteer CERT (Community Emergency Response Team) which is a national program. Me...

---

Come Out Friday Night and Sing Your Favorite Songs or Just sit Back and Enjoy the Fun as the Flee...

---

Every Friday Night Enjoy Classic VW's you can come down and see the Wolfpack VDub Car Club of Imp...

---

Showers of Blessings Program offers homeless individuals within the Imperial Beach area Military ...

---

Join the Living Coast Discovery Center's Team for clean-up, planting and restoration projects t...

---

Bodies in Motion at the IB Library Now Has a New Time, Enjoy the fun Every Saturday! Enjoy Bod...

---

Every 1st, 3rd, and 5th Sunday of the month, from 3:00 to 4:00pm. Take a leisurely stroll down th...

---

Feeding San Diego Will Be Distributing Food Twice a Month at Bayside STEAM Academy Event Will ...

---

Meeting Every Monday 6:15pm in Fellowship Hall at St James Church For More Info contact: Tim Li...

---

The Sports Park Gym hosts The County of San Diego Aging and Independent Services free Tai Chi cla...

---

Avocado and Citrus Trees are the month of January 2018 Farming Fresh Program at IB Library

---

The Sports Park Gym hosts The County of San Diego Aging and Independent Services free Tai Chi cla...

---

Come Out Friday Night and Sing Your Favorite Songs or Just sit Back and Enjoy the Fun as the Flee...

---

Every Friday Night Enjoy Classic VW's you can come down and see the Wolfpack VDub Car Club of Imp...

---

Showers of Blessings Program offers homeless individuals within the Imperial Beach area Military ...

---

Bodies in Motion at the IB Library Now Has a New Time, Enjoy the fun Every Saturday! Enjoy Bod...

---

Every 2nd and 4th Saturday, from 11:00am to 12:00pm. The Tijuana Estuary protects a variety of pl...

---

"Art Whine and Cheez: a Not-so-Serious Art Workshop" Come and Meet Some New Friends at the IB Li...

---

Our school will be having an Open House on January 28, 2018, where our students will be displayin...

---

01/29/2018

06:15PM — 08:00PM

Meeting Every Monday 6:15pm in Fellowship Hall at St James Church For More Info contact: Tim Li...

---

The Sports Park Gym hosts The County of San Diego Aging and Independent Services free Tai Chi cla...

---

The Mar Vista High School Pan Asian Dancers Will Be Performing at the Imperial Beach Library on W...

---

The Sports Park Gym hosts The County of San Diego Aging and Independent Services free Tai Chi cla...

---

Every Friday Night Enjoy Classic VW's you can come down and see the Wolfpack VDub Car Club of Imp...

---

Showers of Blessings Program offers homeless individuals within the Imperial Beach area Military ...

---

Bodies in Motion at the IB Library Now Has a New Time, Enjoy the fun Every Saturday! Enjoy Bod...

---

Every 1st, 3rd, and 5th Sunday of the month, from 3:00 to 4:00pm. Take a leisurely stroll down th...

---

02/05/2018

06:15PM — 08:00PM

Meeting Every Monday 6:15pm in Fellowship Hall at St James Church For More Info contact: Tim Li...

---

The Sports Park Gym hosts The County of San Diego Aging and Independent Services free Tai Chi cla...

---

02/06/2018

06:00PM — 07:00PM

Cub Scout Troop #866 Meeting Meeting Starts at 6pm in Fellowship Hall Martin Brandt for more in...

---