Best Kept Secret on 13th Street! "$1 Family Market and $1 Plus"!

Oct 20, 2014 03:59AM ● Published by Paul Spear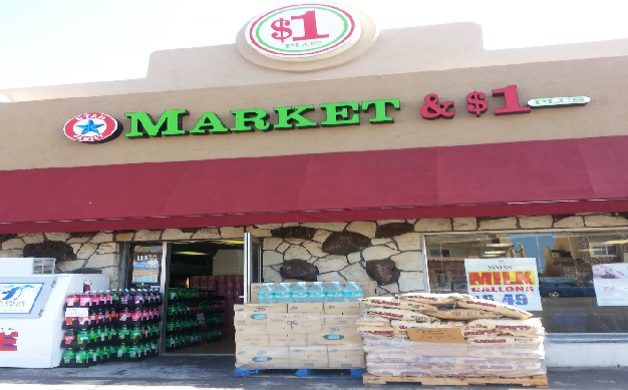 "$1 Family Market & $1 Plus" is a marvelous and exciting find! It has to be the best kept secret on 13th St.

My son and I walked into the "$1 Family Market & $1 Plus" the other night, I discovered the kind of store that now means I have a convenient go-to store for most everything I need.
That store, "$1 Family Market & $1 Plus," has everything you might possibly need at really great prices. 

And as a family owned and operated store, you will find that the customer service is excellent. The family pride can be felt when you are greeted as you enter the store. 

One of my favorite items is their fresh produce. Not only does it have a great pricing but it looks very fresh! 

The bananas I bought were fantastic. 99 cents for 3 lbs. I was able to start eating them right away, and the one I had 5 days later was still good to eat! 

And great prices and products aren't all they have going for them. The store runs specials all the time, featuring products at even lower prices! 

They have everything you might need for every room inside your house, even items for outside, as well, and for projects you might take on in or outside your house. 

 They have everything you need for the kitchen, including food, utensils and all the cleaning supplies you could need: Napkins, paper towels, dish soap, food, spices, milk, cereal, eggs, cheese, tortillas, beans, fresh and canned food, snack food, candy, sodas, orange juice, refrigerated items and coming soon freezer items. They cover almost every kitchen need, even for outdoor cooking on the BBQ.
I went back to the store the next day because I needed office supplies for my business. Not only did I find them, I found other items perfect for school kids, including backpacks and every supply imaginable. 
They also have everything you need for your pet! They have party supplies, hardware, dishes, brooms, mops, and so much more!
You really must come by and visit the store to see for yourself. You will be happily surprised with the prices and selection! Don't forget the "magic" words for your discount!
"$1 Family Market & $1 Plus" is located at 1155 13th St., IB 91932 (Just ½ block south of Imperial Beach Blvd.).
 To see this week's ad with just some of their specials, click on this link: $1 Family Market & $1 Plus.
I Love A Clean SD and the IB City Council are Hosting a Community Cleanup at Teeple Park on Monda...

---

Meeting Every Monday 6:15pm in Fellowship Hall at St James Church For More Info contact: Tim Li...

---
The Sports Park Gym hosts The County of San Diego Aging and Independent Services free Tai Chi cla...

---

Cub Scout Troop #866 Meeting Meeting Starts at 6pm in Fellowship Hall Martin Brandt for more in...

---
SB Tribe Youth Football is holding Spring Season Conditioning this Week at Montgomery Waller Com...

---
The Sports Park Gym hosts The County of San Diego Aging and Independent Services free Tai Chi cla...

---

The Design Review Board is a City Council appointed Board whose members are charged with the revi...

---

Event Details: What: Community Job Fair Who: Port of San Diego, Dick Miller, Inc., project s...

---

Imperial Beach volunteer CERT (Community Emergency Response Team) which is a national program. Me...

---
Come Out Friday Night and Sing Your Favorite Songs or Just sit Back and Enjoy the Fun as the Flee...

---

Every Friday Night Enjoy Classic VW's you can come down and see the Wolfpack VDub Car Club of Imp...

---
It looks like we don't have any events for this date. You can always add an event.
I Love A Clean SD and the IB City Council are Hosting a Community Cleanup at Teeple Park on Monda...

---

Meeting Every Monday 6:15pm in Fellowship Hall at St James Church For More Info contact: Tim Li...

---

The Sports Park Gym hosts The County of San Diego Aging and Independent Services free Tai Chi cla...

---

Cub Scout Troop #866 Meeting Meeting Starts at 6pm in Fellowship Hall Martin Brandt for more in...

---

SB Tribe Youth Football is holding Spring Season Conditioning this Week at Montgomery Waller Com...

---

The Sports Park Gym hosts The County of San Diego Aging and Independent Services free Tai Chi cla...

---

The Design Review Board is a City Council appointed Board whose members are charged with the revi...

---

Event Details: What: Community Job Fair Who: Port of San Diego, Dick Miller, Inc., project s...

---

Imperial Beach volunteer CERT (Community Emergency Response Team) which is a national program. Me...

---

Come Out Friday Night and Sing Your Favorite Songs or Just sit Back and Enjoy the Fun as the Flee...

---

Every Friday Night Enjoy Classic VW's you can come down and see the Wolfpack VDub Car Club of Imp...

---

Showers of Blessings Program offers homeless individuals within the Imperial Beach area Military ...

---

Join the Living Coast Discovery Center's Team for clean-up, planting and restoration projects t...

---

Bodies in Motion at the IB Library Now Has a New Time, Enjoy the fun Every Saturday! Enjoy Bod...

---

Every 1st, 3rd, and 5th Sunday of the month, from 3:00 to 4:00pm. Take a leisurely stroll down th...

---

Feeding San Diego Will Be Distributing Food Twice a Month at Bayside STEAM Academy Event Will ...

---

01/22/2018

06:15PM — 08:00PM

Meeting Every Monday 6:15pm in Fellowship Hall at St James Church For More Info contact: Tim Li...

---

The Sports Park Gym hosts The County of San Diego Aging and Independent Services free Tai Chi cla...

---

Avocado and Citrus Trees are the month of January 2018 Farming Fresh Program at IB Library

---

The Sports Park Gym hosts The County of San Diego Aging and Independent Services free Tai Chi cla...

---

Come Out Friday Night and Sing Your Favorite Songs or Just sit Back and Enjoy the Fun as the Flee...

---

Every Friday Night Enjoy Classic VW's you can come down and see the Wolfpack VDub Car Club of Imp...

---

Showers of Blessings Program offers homeless individuals within the Imperial Beach area Military ...

---

Bodies in Motion at the IB Library Now Has a New Time, Enjoy the fun Every Saturday! Enjoy Bod...

---

Every 2nd and 4th Saturday, from 11:00am to 12:00pm. The Tijuana Estuary protects a variety of pl...

---

"Art Whine and Cheez: a Not-so-Serious Art Workshop" Come and Meet Some New Friends at the IB Li...

---

Our school will be having an Open House on January 28, 2018, where our students will be displayin...

---

01/29/2018

06:15PM — 08:00PM

Meeting Every Monday 6:15pm in Fellowship Hall at St James Church For More Info contact: Tim Li...

---

The Sports Park Gym hosts The County of San Diego Aging and Independent Services free Tai Chi cla...

---

The Mar Vista High School Pan Asian Dancers Will Be Performing at the Imperial Beach Library on W...

---

The Sports Park Gym hosts The County of San Diego Aging and Independent Services free Tai Chi cla...

---

Every Friday Night Enjoy Classic VW's you can come down and see the Wolfpack VDub Car Club of Imp...

---

Showers of Blessings Program offers homeless individuals within the Imperial Beach area Military ...

---

Bodies in Motion at the IB Library Now Has a New Time, Enjoy the fun Every Saturday! Enjoy Bod...

---

Every 1st, 3rd, and 5th Sunday of the month, from 3:00 to 4:00pm. Take a leisurely stroll down th...

---

02/05/2018

06:15PM — 08:00PM

Meeting Every Monday 6:15pm in Fellowship Hall at St James Church For More Info contact: Tim Li...

---