Halloween AM Jam Competition @ Imperial Beach SK8 Park!

Oct 07, 2014 05:13PM ● Published by Paul Spear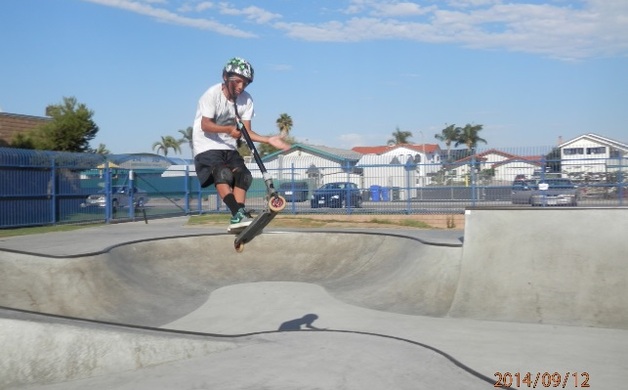 Gallery: Scooters at IB Skate Park [14 Images] Click any image to expand.
Chula Vista Scooters is hosting "Halloween Jam" at Imperial Beach SK8 Saturday October 18th 2014. If you think you got what it takes, then come out and show us your "Tricks or Treats"!!
When: Saturday October 18th, 8am to 5pm
Prizes for: 
1st Place Beginners – Cash Prizes!!
1st Place Intermediate – Cash Prizes!!
There will be two classes for Beginners Scooters & and two classes for Intermediate Scooters!
Ages Groups: 12 and under and Ages 13 and up
Prizes for Best Halloween Costume!!
Where: IB Sports Park Recreation Center – SK8 Park
425 Imperial Beach Blvd
Imperial Beach, CA 91932
They will have food and refreshments for sale. Bring a lawn chair, relax, and enjoy the great show!
If you have any questions regarding the event, call 619-422-4000 or 619-794-8954
Photo Credit: Donna Aslum and Paul Spear
Stewardship volunteers perform a variety of duties, depending on their schedules and interests. D...

---

Schedule 9/8 Tom Barabas with Phil Tauber 9/15 Jarel Paguio ...

---

Local Farmers Market featuring a variety of foods, organic and locally grown produce and flowers.

---

The Mar Vista High School Boys Varsity Water Polo Team Host Game El Capitan in a neutral tourname...

---

Every Friday Night Enjoy Classic VW's you can come down and see the Wolfpack VDub Car Club of Imp...

---

Come Out Friday Night and Sing Your Favorite Songs or Just sit Back and Enjoy the Fun as the Flee...

---

Mar Vista's Football Game Friday Night Figure to Be Exciting Night with Homecoming, Start of Leag...

---
Showers of Blessings Program offers homeless individuals within the Imperial Beach area Military ...

---

Celebrate Archaeology Month! For at least 13,000 years, human beings, plants and animals have exi...

---

Tickets on Sale for the Bayside Brew & Spirits Craft Festival at Pepper Park in National City thi...

---

Every 1st, 3rd, and 5th Sunday of the month, from 3:00 to 4:00pm. Take a leisurely stroll down th...

---

Celebrate Oktoberfest and Enjoy Beer, Sauerkraut, Kielbasa, German Potato Salad and All Your Ger...

---

COME, EXPERIENCE SILENCE... every Thursday at 7pm at IB United Methodist Church. 30 minutes of...

---
It looks like we don't have any events for this date. You can always add an event.
It looks like we don't have any events for this date. You can always add an event.
Emergency food assistance for homeless and low-income individuals within the Imperial Beach area....

---

The Sports Park Gym hosts The County of San Diego Aging and Independent Services free Tai Chi cla...

---

The Imperial Beach Chamber of Commerce Holding Special Luncheon to Learn on Environmental Conserv...

---

With a Teen Only Room, Teens will be able to Enjoy the Special Teen Programs and much more @ the ...

---
* Breakfast Devotion at The Wave Cafe' every Wednesday morning from 8:00 AM to 9:00 AM. * The Wa...

---

Don't get stuck in the middle of the week rut. Get your Wednesday started off right with Yoga Ins...

---

Bring Your Little Ones in Costume, Watch Movies and Have Fun at the "Lil Monster Bash" at the IB ...

---
Imperial Beach Monthly Chamber of Commerce Breakfast at Dempsey Center at 7:15am IBCOC MONTHL...

---

Dan Malcolm, Port of San Diego Commissioner Will Be the Guest Speaker at IB Chamber of Commerce M...

---

Emergency food assistance for homeless and low-income individuals within the Imperial Beach area....

---

The Sports Park Gym hosts The County of San Diego Aging and Independent Services free Tai Chi cla...

---

COME, EXPERIENCE SILENCE... every Thursday at 7pm at IB United Methodist Church. 30 minutes of...

---
Stewardship volunteers perform a variety of duties, depending on their schedules and interests. D...

---

Schedule 9/8 Tom Barabas with Phil Tauber 9/15 Jarel Paguio ...

---

Local Farmers Market featuring a variety of foods, organic and locally grown produce and flowers.

---

The Mar Vista High School Boys Varsity Water Polo Team Host Game El Capitan in a neutral tourname...

---

Every Friday Night Enjoy Classic VW's you can come down and see the Wolfpack VDub Car Club of Imp...

---

Come Out Friday Night and Sing Your Favorite Songs or Just sit Back and Enjoy the Fun as the Flee...

---

Mar Vista's Football Game Friday Night Figure to Be Exciting Night with Homecoming, Start of Leag...

---

Showers of Blessings Program offers homeless individuals within the Imperial Beach area Military ...

---

Celebrate Archaeology Month! For at least 13,000 years, human beings, plants and animals have exi...

---

Tickets on Sale for the Bayside Brew & Spirits Craft Festival at Pepper Park in National City thi...

---

Every 1st, 3rd, and 5th Sunday of the month, from 3:00 to 4:00pm. Take a leisurely stroll down th...

---

Celebrate Oktoberfest and Enjoy Beer, Sauerkraut, Kielbasa, German Potato Salad and All Your Ger...

---

COME, EXPERIENCE SILENCE... every Thursday at 7pm at IB United Methodist Church. 30 minutes of...

---

Emergency food assistance for homeless and low-income individuals within the Imperial Beach area....

---

The Sports Park Gym hosts The County of San Diego Aging and Independent Services free Tai Chi cla...

---

The Imperial Beach Chamber of Commerce Holding Special Luncheon to Learn on Environmental Conserv...

---

With a Teen Only Room, Teens will be able to Enjoy the Special Teen Programs and much more @ the ...

---

* Breakfast Devotion at The Wave Cafe' every Wednesday morning from 8:00 AM to 9:00 AM. * The Wa...

---

Don't get stuck in the middle of the week rut. Get your Wednesday started off right with Yoga Ins...

---

Bring Your Little Ones in Costume, Watch Movies and Have Fun at the "Lil Monster Bash" at the IB ...

---

Imperial Beach Monthly Chamber of Commerce Breakfast at Dempsey Center at 7:15am IBCOC MONTHL...

---

Dan Malcolm, Port of San Diego Commissioner Will Be the Guest Speaker at IB Chamber of Commerce M...

---

Emergency food assistance for homeless and low-income individuals within the Imperial Beach area....

---

The Sports Park Gym hosts The County of San Diego Aging and Independent Services free Tai Chi cla...

---

COME, EXPERIENCE SILENCE... every Thursday at 7pm at IB United Methodist Church. 30 minutes of...

---

Stewardship volunteers perform a variety of duties, depending on their schedules and interests. D...

---

Schedule 9/8 Tom Barabas with Phil Tauber 9/15 Jarel Paguio ...

---

Local Farmers Market featuring a variety of foods, organic and locally grown produce and flowers.

---

Every Friday Night Enjoy Classic VW's you can come down and see the Wolfpack VDub Car Club of Imp...

---

Come Out Friday Night and Sing Your Favorite Songs or Just sit Back and Enjoy the Fun as the Flee...

---

Showers of Blessings Program offers homeless individuals within the Imperial Beach area Military ...

---

The Public is Invited to Come Out and Enjoy Some Eggstravagant Eggs Benedict That Will Be Served ...

---

Come Enjoy Art, Wine and Cheese at the IB Library on Saturday, October 28th

---

Come Enjoy Art, Wine and Cheese at the IB Library on Saturday, October 28th

---

Every 2nd and 4th Saturday, from 11:00am to 12:00pm. The Tijuana Estuary protects a variety of pl...

---

COME, EXPERIENCE SILENCE... every Thursday at 7pm at IB United Methodist Church. 30 minutes of...

---

Emergency food assistance for homeless and low-income individuals within the Imperial Beach area....

---

The Sports Park Gym hosts The County of San Diego Aging and Independent Services free Tai Chi cla...

---

With a Teen Only Room, Teens will be able to Enjoy the Special Teen Programs and much more @ the ...

---

* Breakfast Devotion at The Wave Cafe' every Wednesday morning from 8:00 AM to 9:00 AM. * The Wa...

---

11/01/2017

10:00AM — 11:00AM

Don't get stuck in the middle of the week rut. Get your Wednesday started off right with Yoga Ins...

---

Emergency food assistance for homeless and low-income individuals within the Imperial Beach area....

---

The Sports Park Gym hosts The County of San Diego Aging and Independent Services free Tai Chi cla...

---

COME, EXPERIENCE SILENCE... every Thursday at 7pm at IB United Methodist Church. 30 minutes of...

---

Stewardship volunteers perform a variety of duties, depending on their schedules and interests. D...

---

Schedule 9/8 Tom Barabas with Phil Tauber 9/15 Jarel Paguio ...

---

Local Farmers Market featuring a variety of foods, organic and locally grown produce and flowers.

---

Every Friday Night Enjoy Classic VW's you can come down and see the Wolfpack VDub Car Club of Imp...

---

Come Out Friday Night and Sing Your Favorite Songs or Just sit Back and Enjoy the Fun as the Flee...

---

Showers of Blessings Program offers homeless individuals within the Imperial Beach area Military ...

---

Don't Miss Out on the Craft Fair Being Held at the Fleet Reserve on Saturday November 4th. Come C...

---

Every 1st, 3rd, and 5th Sunday of the month, from 3:00 to 4:00pm. Take a leisurely stroll down th...

---

COME, EXPERIENCE SILENCE... every Thursday at 7pm at IB United Methodist Church. 30 minutes of...

---

Emergency food assistance for homeless and low-income individuals within the Imperial Beach area....

---

The Sports Park Gym hosts The County of San Diego Aging and Independent Services free Tai Chi cla...

---

With a Teen Only Room, Teens will be able to Enjoy the Special Teen Programs and much more @ the ...

---

* Breakfast Devotion at The Wave Cafe' every Wednesday morning from 8:00 AM to 9:00 AM. * The Wa...

---

11/08/2017

10:00AM — 11:00AM

Don't get stuck in the middle of the week rut. Get your Wednesday started off right with Yoga Ins...

---

Emergency food assistance for homeless and low-income individuals within the Imperial Beach area....

---

The Sports Park Gym hosts The County of San Diego Aging and Independent Services free Tai Chi cla...

---

COME, EXPERIENCE SILENCE... every Thursday at 7pm at IB United Methodist Church. 30 minutes of...

---

Stewardship volunteers perform a variety of duties, depending on their schedules and interests. D...

---

Every Friday Night Enjoy Classic VW's you can come down and see the Wolfpack VDub Car Club of Imp...

---

Come Out Friday Night and Sing Your Favorite Songs or Just sit Back and Enjoy the Fun as the Flee...

---