Cool Sunsets of Imperial Beach!

Sep 21, 2014 11:33PM, Published by Paul Spear, Categories:
---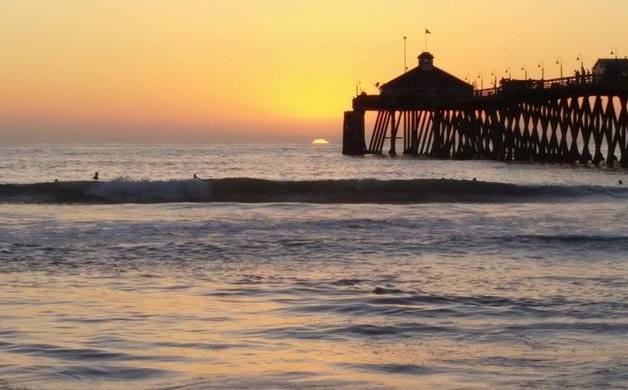 Gallery: Cool Sunsets of Imperial Beach! [10 Images] Click any image to expand.
---
---
We are extremely pleased that Donna Aslum volunteered to help out the photography staff of DigImperialBeach.com with some cool Sunset Pictures taken here in IB. Donna brings a love of photography with her to her work. Donna lives in IB and stays busy rider her bike around town and taking pictures. You can often find her taking fabulous pictures like the ones featured above.

Please be sure to check out her work in the attached Photo Gallery " Cool Sunsets of Imperial Beach!"


Thanks,
paul Spear, Editor


---
Emergency food assistance for homeless and low-income individuals within the Imperial Beach area....

---

The Sports Park Gym hosts The County of San Diego Aging and Independent Services free Tai Chi cla...

---

With a Teen Only Room, Teens will be able to Enjoy the Special Teen Programs and much more @ the ...

---
* Breakfast Devotion at The Wave Cafe' every Wednesday morning from 8:00 AM to 9:00 AM. * The Wa...

---

Don't get stuck in the middle of the week rut. Get your Wednesday started off right with Yoga Ins...

---

Lady Mariners Volleyball Opens Play Wednesday August 23rd at Home vs Montgomery High School! Nov...

---

Mark Wenzel, California's Favorite Mime to appear at Imperial Beach Library Wednesday August 23rd

---
Showers of Blessings Program offers homeless individuals within the Imperial Beach area Military ...

---

Nature Walks: 2nd & 4th Saturdays of the Month at 11:00 a.m Tijuana River National Estuarine R...

---

COME, EXPERIENCE SILENCE... every Thursday at 7pm at IB United Methodist Church. 30 minutes of...

---

The Imperial Beach Library with the Boys & Girls Club Presents "Movie in the Park" Saturday Augus...

---
It looks like we don't have any events for this date. You can always add an event.
Emergency food assistance for homeless and low-income individuals within the Imperial Beach area....

---

The Sports Park Gym hosts The County of San Diego Aging and Independent Services free Tai Chi cla...

---

With a Teen Only Room, Teens will be able to Enjoy the Special Teen Programs and much more @ the ...

---

* Breakfast Devotion at The Wave Cafe' every Wednesday morning from 8:00 AM to 9:00 AM. * The Wa...

---

Don't get stuck in the middle of the week rut. Get your Wednesday started off right with Yoga Ins...

---

Lady Mariners Volleyball Opens Play Wednesday August 23rd at Home vs Montgomery High School! Nov...

---

Mark Wenzel, California's Favorite Mime to appear at Imperial Beach Library Wednesday August 23rd

---

Imperial Beach Monthly Chamber of Commerce Breakfast at Dempsey Center at 7:15am IBCOC MONTHL...

---

Emergency food assistance for homeless and low-income individuals within the Imperial Beach area....

---

The Sports Park Gym hosts The County of San Diego Aging and Independent Services free Tai Chi cla...

---

MVHS Mariner Novice Football Team Versus Monte Vista on Thursday August 24th The Novice will n...

---

MVHS Mariners Junior Varsity Plays its First Game of the Year versus Monte Vista from Spring Vall...

---

COME, EXPERIENCE SILENCE... every Thursday at 7pm at IB United Methodist Church. 30 minutes of...

---

Local Farmers Market featuring a variety of foods, organic and locally grown produce and flowers.

---

Mariner's Varsity Football Team Off to a Good Start The Mar Vista High School Football Program G...

---

Showers of Blessings Program offers homeless individuals within the Imperial Beach area Military ...

---

Nature Walks: 2nd & 4th Saturdays of the Month at 11:00 a.m Tijuana River National Estuarine R...

---

COME, EXPERIENCE SILENCE... every Thursday at 7pm at IB United Methodist Church. 30 minutes of...

---

The Imperial Beach Library with the Boys & Girls Club Presents "Movie in the Park" Saturday Augus...

---

The Public is Invited to Attend the South SD Food Recovery Forum Monday August 28th

---

Emergency food assistance for homeless and low-income individuals within the Imperial Beach area....

---

The Sports Park Gym hosts The County of San Diego Aging and Independent Services free Tai Chi cla...

---

With a Teen Only Room, Teens will be able to Enjoy the Special Teen Programs and much more @ the ...

---

* Breakfast Devotion at The Wave Cafe' every Wednesday morning from 8:00 AM to 9:00 AM. * The Wa...

---

08/30/2017

10:00AM — 11:00AM

Don't get stuck in the middle of the week rut. Get your Wednesday started off right with Yoga Ins...

---

Emergency food assistance for homeless and low-income individuals within the Imperial Beach area....

---

The Sports Park Gym hosts The County of San Diego Aging and Independent Services free Tai Chi cla...

---

COME, EXPERIENCE SILENCE... every Thursday at 7pm at IB United Methodist Church. 30 minutes of...

---

Local Farmers Market featuring a variety of foods, organic and locally grown produce and flowers.

---

Showers of Blessings Program offers homeless individuals within the Imperial Beach area Military ...

---

COME, EXPERIENCE SILENCE... every Thursday at 7pm at IB United Methodist Church. 30 minutes of...

---

Emergency food assistance for homeless and low-income individuals within the Imperial Beach area....

---

The Sports Park Gym hosts The County of San Diego Aging and Independent Services free Tai Chi cla...

---

With a Teen Only Room, Teens will be able to Enjoy the Special Teen Programs and much more @ the ...

---

* Breakfast Devotion at The Wave Cafe' every Wednesday morning from 8:00 AM to 9:00 AM. * The Wa...

---

09/06/2017

10:00AM — 11:00AM

Don't get stuck in the middle of the week rut. Get your Wednesday started off right with Yoga Ins...

---

Emergency food assistance for homeless and low-income individuals within the Imperial Beach area....

---

The Sports Park Gym hosts The County of San Diego Aging and Independent Services free Tai Chi cla...

---

COME, EXPERIENCE SILENCE... every Thursday at 7pm at IB United Methodist Church. 30 minutes of...

---

Local Farmers Market featuring a variety of foods, organic and locally grown produce and flowers.

---

Showers of Blessings Program offers homeless individuals within the Imperial Beach area Military ...

---

Nature Walks: 2nd & 4th Saturdays of the Month at 11:00 a.m Tijuana River National Estuarine R...

---

Join the IB/SB Kiwanis for their Annual September Fest Saturday September 9th! The Imperial Beac...

---

COME, EXPERIENCE SILENCE... every Thursday at 7pm at IB United Methodist Church. 30 minutes of...

---

Emergency food assistance for homeless and low-income individuals within the Imperial Beach area....

---

The Sports Park Gym hosts The County of San Diego Aging and Independent Services free Tai Chi cla...

---

09/12/2017

12:00PM — 01:00PM

The Imperial Beach Woman's Club is a non-profit organization that raises money for the local orga...

---

With a Teen Only Room, Teens will be able to Enjoy the Special Teen Programs and much more @ the ...

---