IB Posse to Build Sandcastle at Dempsey Ocean Festival & Surf Contest / Blues & BBQ Festival

Sep 20, 2014 10:48AM, Published by Paul Spear, Categories:
---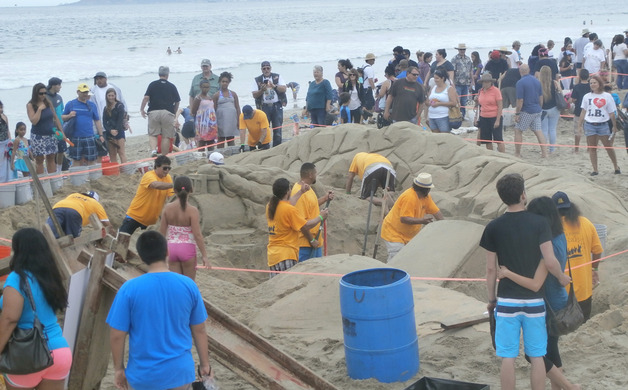 Gallery: Sandcastles from the past [17 Images] Click any image to expand.
---
---
Per Leonard Gonzalez, " The plan is to sculpt a piece to commemorate the weekend.  A little something for each event (classic cars, bbq, music, surfing)...add in a sandcastle and it's the perfect beach outing!"
I've included some old images of te past for our viewers!
---
Subscribe
Emergency food assistance for homeless and low-income individuals within the Imperial Beach area....

---

The Sports Park Gym hosts The County of San Diego Aging and Independent Services free Tai Chi cla...

---

With a Teen Only Room, Teens will be able to Enjoy the Special Teen Programs and much more @ the ...

---
* Breakfast Devotion at The Wave Cafe' every Wednesday morning from 8:00 AM to 9:00 AM. * The Wa...

---

Don't get stuck in the middle of the week rut. Get your Wednesday started off right with Yoga Ins...

---

Lady Mariners Volleyball Opens Play Wednesday August 23rd at Home vs Montgomery High School! Nov...

---

Mark Wenzel, California's Favorite Mime to appear at Imperial Beach Library Wednesday August 23rd

---
Showers of Blessings Program offers homeless individuals within the Imperial Beach area Military ...

---

Various age groups are playing all day at Mar Vista HS Football Field!

---

Nature Walks: 2nd & 4th Saturdays of the Month at 11:00 a.m Tijuana River National Estuarine R...

---

COME, EXPERIENCE SILENCE... every Thursday at 7pm at IB United Methodist Church. 30 minutes of...

---

The Imperial Beach Library with the Boys & Girls Club Presents "Movie in the Park" Saturday Augus...

---
It looks like we don't have any events for this date. You can always add an event.
Emergency food assistance for homeless and low-income individuals within the Imperial Beach area....

---

The Sports Park Gym hosts The County of San Diego Aging and Independent Services free Tai Chi cla...

---

With a Teen Only Room, Teens will be able to Enjoy the Special Teen Programs and much more @ the ...

---

* Breakfast Devotion at The Wave Cafe' every Wednesday morning from 8:00 AM to 9:00 AM. * The Wa...

---

Don't get stuck in the middle of the week rut. Get your Wednesday started off right with Yoga Ins...

---

Lady Mariners Volleyball Opens Play Wednesday August 23rd at Home vs Montgomery High School! Nov...

---

Mark Wenzel, California's Favorite Mime to appear at Imperial Beach Library Wednesday August 23rd

---

Imperial Beach Monthly Chamber of Commerce Breakfast at Dempsey Center at 7:15am IBCOC MONTHL...

---

Emergency food assistance for homeless and low-income individuals within the Imperial Beach area....

---

The Sports Park Gym hosts The County of San Diego Aging and Independent Services free Tai Chi cla...

---

MVHS Mariner Novice Football Team Versus Monte Vista on Thursday August 24th The Novice will n...

---

MVHS Mariners Junior Varsity Plays its First Game of the Year versus Monte Vista from Spring Vall...

---

COME, EXPERIENCE SILENCE... every Thursday at 7pm at IB United Methodist Church. 30 minutes of...

---

Local Farmers Market featuring a variety of foods, organic and locally grown produce and flowers.

---

Mariner's Varsity Football Team Off to a Good Start The Mar Vista High School Football Program G...

---

Showers of Blessings Program offers homeless individuals within the Imperial Beach area Military ...

---

Various age groups are playing all day at Mar Vista HS Football Field!

---

Nature Walks: 2nd & 4th Saturdays of the Month at 11:00 a.m Tijuana River National Estuarine R...

---

COME, EXPERIENCE SILENCE... every Thursday at 7pm at IB United Methodist Church. 30 minutes of...

---

The Imperial Beach Library with the Boys & Girls Club Presents "Movie in the Park" Saturday Augus...

---

The Public is Invited to Attend the South SD Food Recovery Forum Monday August 28th

---

Emergency food assistance for homeless and low-income individuals within the Imperial Beach area....

---

The Sports Park Gym hosts The County of San Diego Aging and Independent Services free Tai Chi cla...

---

With a Teen Only Room, Teens will be able to Enjoy the Special Teen Programs and much more @ the ...

---

* Breakfast Devotion at The Wave Cafe' every Wednesday morning from 8:00 AM to 9:00 AM. * The Wa...

---

08/30/2017

10:00AM — 11:00AM

Don't get stuck in the middle of the week rut. Get your Wednesday started off right with Yoga Ins...

---

Emergency food assistance for homeless and low-income individuals within the Imperial Beach area....

---

The Sports Park Gym hosts The County of San Diego Aging and Independent Services free Tai Chi cla...

---

COME, EXPERIENCE SILENCE... every Thursday at 7pm at IB United Methodist Church. 30 minutes of...

---

Local Farmers Market featuring a variety of foods, organic and locally grown produce and flowers.

---

Showers of Blessings Program offers homeless individuals within the Imperial Beach area Military ...

---

COME, EXPERIENCE SILENCE... every Thursday at 7pm at IB United Methodist Church. 30 minutes of...

---

Emergency food assistance for homeless and low-income individuals within the Imperial Beach area....

---

The Sports Park Gym hosts The County of San Diego Aging and Independent Services free Tai Chi cla...

---

With a Teen Only Room, Teens will be able to Enjoy the Special Teen Programs and much more @ the ...

---

* Breakfast Devotion at The Wave Cafe' every Wednesday morning from 8:00 AM to 9:00 AM. * The Wa...

---

09/06/2017

10:00AM — 11:00AM

Don't get stuck in the middle of the week rut. Get your Wednesday started off right with Yoga Ins...

---

Emergency food assistance for homeless and low-income individuals within the Imperial Beach area....

---

The Sports Park Gym hosts The County of San Diego Aging and Independent Services free Tai Chi cla...

---

COME, EXPERIENCE SILENCE... every Thursday at 7pm at IB United Methodist Church. 30 minutes of...

---

Local Farmers Market featuring a variety of foods, organic and locally grown produce and flowers.

---

Showers of Blessings Program offers homeless individuals within the Imperial Beach area Military ...

---

Nature Walks: 2nd & 4th Saturdays of the Month at 11:00 a.m Tijuana River National Estuarine R...

---

Join the IB/SB Kiwanis for their Annual September Fest Saturday September 9th! The Imperial Beac...

---

COME, EXPERIENCE SILENCE... every Thursday at 7pm at IB United Methodist Church. 30 minutes of...

---

Emergency food assistance for homeless and low-income individuals within the Imperial Beach area....

---

The Sports Park Gym hosts The County of San Diego Aging and Independent Services free Tai Chi cla...

---

09/12/2017

12:00PM — 01:00PM

The Imperial Beach Woman's Club is a non-profit organization that raises money for the local orga...

---

With a Teen Only Room, Teens will be able to Enjoy the Special Teen Programs and much more @ the ...

---