Jim King, Candidate for IB City Council, makes Statement

Sep 16, 2014 06:06PM ● Published by Paul Spear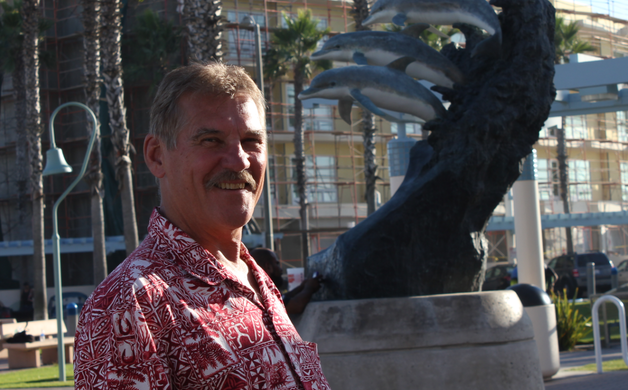 Imperial Beach Friends and Neighbors – Please Vote For Me
I am Jim King. In having had the honor of serving as your elected representative to the City Council from   2008 - 2012, I made a commitment to provide the leadership to help stabilize the City's finances; and support the following:
Business development, economic growth and job creation
Protect and further our Classic Southern California beach town character
Support Recreational opportunities like our Skate Park and new Bicycle Routes
Protect and Improve our Beaches, Ocean and Natural Resources
Support Public Safety
Improve infrastructure like streets, sewers, lighting, parks, safe routes to school for our children and paving of alleys 
Construction of affordable housing units
My leadership was key in many of the decisions that have made these objectives a reality today, in 2014. With a long history of an economic base that was not sufficient to support the scope of services a City needs and wants to provide its residents, 2014 marks a significant positive turning point for Imperial Beach. A pivotal moment was the opening of the Pier South Hotel. It dramatically changed property values and market opportunities, the dynamics that drive investment.  Imperial Beach is Booming !!! - in a very positive way. The center to be developed at 9th and Palm will simply be more value added both financially and as a place to meet and shop.
Not since the Miracle Shopping Center at 9th and Palm was built, has the City experienced the interest, excitement, and momentum we are seeing in the opening of new businesses.
Community engagement in a visionary planning process, together with a highly competent professional staff and a continuity of policy direction from successive City
Councils' has brought us to this juncture, where all the hard work is coming together in
a unified whole. Our tax base will expand and many of the unmet desires and needs
of the City's residents will be able to be addressed without sacrificing other necessities the City must provide for the health, safety and welfare of its citizens.
My Background:
General Building Contractor (current)
Sharp Coronado Hospital Board Member (current)
 Imperial Beach City Council 2008 - 2012
Imperial Beach Redevelopment Oversight Board (current)
Millwork Company Owner (prior)
City Planner (prior – local and regional)
Bachelors Degree – Public Administration
Imperial Beach Resident – 27 years . Married 29 years. 1- Son - 21. 1 -  Cat  1 - Dog                
San Diego Resident – 58 years. I surf, river raft, hike, enjoy music, people & travel.
* Breakfast Devotion at The Wave Cafe' every Wednesday morning from 8:00 AM to 9:00 AM. * The Wa...

---

Enjoy a Free Turkey Dinner Served with Stuffing, Mashed Potatoes, Corn, Dinner Rolls, and Desert ...

---
Emergency food assistance for homeless and low-income individuals within the Imperial Beach area....

---

The Sports Park Gym hosts The County of San Diego Aging and Independent Services free Tai Chi cla...

---

Your Invited to a Thanksgiving Dinner at the Fleet Reserve Thursday November 23rd Food starts ...

---

COME, EXPERIENCE SILENCE... every Thursday at 7pm at IB United Methodist Church. 30 minutes of...

---
Stewardship volunteers perform a variety of duties, depending on their schedules and interests. D...

---

Come Out Friday Night and Sing Your Favorite Songs or Just sit Back and Enjoy the Fun as the Flee...

---

Every Friday Night Enjoy Classic VW's you can come down and see the Wolfpack VDub Car Club of Imp...

---
Showers of Blessings Program offers homeless individuals within the Imperial Beach area Military ...

---

Bodies in Motion at the IB Library Now Has a New Time, Enjoy the fun Every Saturday! Enjoy Bod...

---

Every 2nd and 4th Saturday, from 11:00am to 12:00pm. The Tijuana Estuary protects a variety of pl...

---

COME, EXPERIENCE SILENCE... every Thursday at 7pm at IB United Methodist Church. 30 minutes of...

---
It looks like we don't have any events for this date. You can always add an event.
Meeting Every Monday 6:15pm in Fellowship Hall at St James Church For More Info contact: Tim Li...

---
Emergency food assistance for homeless and low-income individuals within the Imperial Beach area....

---

The Sports Park Gym hosts The County of San Diego Aging and Independent Services free Tai Chi cla...

---

With a Teen Only Room, Teens will be able to Enjoy the Special Teen Programs and much more @ the ...

---
* Breakfast Devotion at The Wave Cafe' every Wednesday morning from 8:00 AM to 9:00 AM. * The Wa...

---

Enjoy a Free Turkey Dinner Served with Stuffing, Mashed Potatoes, Corn, Dinner Rolls, and Desert ...

---

Emergency food assistance for homeless and low-income individuals within the Imperial Beach area....

---

The Sports Park Gym hosts The County of San Diego Aging and Independent Services free Tai Chi cla...

---

Your Invited to a Thanksgiving Dinner at the Fleet Reserve Thursday November 23rd Food starts ...

---

COME, EXPERIENCE SILENCE... every Thursday at 7pm at IB United Methodist Church. 30 minutes of...

---

Stewardship volunteers perform a variety of duties, depending on their schedules and interests. D...

---

Come Out Friday Night and Sing Your Favorite Songs or Just sit Back and Enjoy the Fun as the Flee...

---

Every Friday Night Enjoy Classic VW's you can come down and see the Wolfpack VDub Car Club of Imp...

---

Showers of Blessings Program offers homeless individuals within the Imperial Beach area Military ...

---

Bodies in Motion at the IB Library Now Has a New Time, Enjoy the fun Every Saturday! Enjoy Bod...

---

Every 2nd and 4th Saturday, from 11:00am to 12:00pm. The Tijuana Estuary protects a variety of pl...

---

COME, EXPERIENCE SILENCE... every Thursday at 7pm at IB United Methodist Church. 30 minutes of...

---

Meeting Every Monday 6:15pm in Fellowship Hall at St James Church For More Info contact: Tim Li...

---

Emergency food assistance for homeless and low-income individuals within the Imperial Beach area....

---

The Sports Park Gym hosts The County of San Diego Aging and Independent Services free Tai Chi cla...

---

With a Teen Only Room, Teens will be able to Enjoy the Special Teen Programs and much more @ the ...

---

* Breakfast Devotion at The Wave Cafe' every Wednesday morning from 8:00 AM to 9:00 AM. * The Wa...

---

Emergency food assistance for homeless and low-income individuals within the Imperial Beach area....

---

The Sports Park Gym hosts The County of San Diego Aging and Independent Services free Tai Chi cla...

---

COME, EXPERIENCE SILENCE... every Thursday at 7pm at IB United Methodist Church. 30 minutes of...

---

Stewardship volunteers perform a variety of duties, depending on their schedules and interests. D...

---

Come Out Friday Night and Sing Your Favorite Songs or Just sit Back and Enjoy the Fun as the Flee...

---

Every Friday Night Enjoy Classic VW's you can come down and see the Wolfpack VDub Car Club of Imp...

---

Showers of Blessings Program offers homeless individuals within the Imperial Beach area Military ...

---

Celebrate the Season at the Imperial Beach Woman's Club Holiday Bazaar Saturday, December 2nd! ...

---

Bodies in Motion at the IB Library Now Has a New Time, Enjoy the fun Every Saturday! Enjoy Bod...

---

Every 1st, 3rd, and 5th Sunday of the month, from 3:00 to 4:00pm. Take a leisurely stroll down th...

---

COME, EXPERIENCE SILENCE... every Thursday at 7pm at IB United Methodist Church. 30 minutes of...

---

12/04/2017

06:15PM — 08:00PM

Meeting Every Monday 6:15pm in Fellowship Hall at St James Church For More Info contact: Tim Li...

---

Emergency food assistance for homeless and low-income individuals within the Imperial Beach area....

---

The Sports Park Gym hosts The County of San Diego Aging and Independent Services free Tai Chi cla...

---

With a Teen Only Room, Teens will be able to Enjoy the Special Teen Programs and much more @ the ...

---

12/05/2017

06:00PM — 07:00PM

Cub Scout Troop #866 Meeting Meeting Starts at 6pm in Fellowship Hall Martin Brandt for more in...

---

* Breakfast Devotion at The Wave Cafe' every Wednesday morning from 8:00 AM to 9:00 AM. * The Wa...

---

SANDAG ‎ Border to Bayshore Bikeway Community Meeting at the Imperial Beach Library Wednesday, De...

---

Emergency food assistance for homeless and low-income individuals within the Imperial Beach area....

---

The Sports Park Gym hosts The County of San Diego Aging and Independent Services free Tai Chi cla...

---

COME, EXPERIENCE SILENCE... every Thursday at 7pm at IB United Methodist Church. 30 minutes of...

---

Stewardship volunteers perform a variety of duties, depending on their schedules and interests. D...

---

Come Out Friday Night and Sing Your Favorite Songs or Just sit Back and Enjoy the Fun as the Flee...

---

Every Friday Night Enjoy Classic VW's you can come down and see the Wolfpack VDub Car Club of Imp...

---

Showers of Blessings Program offers homeless individuals within the Imperial Beach area Military ...

---

Bodies in Motion at the IB Library Now Has a New Time, Enjoy the fun Every Saturday! Enjoy Bod...

---

Every 2nd and 4th Saturday, from 11:00am to 12:00pm. The Tijuana Estuary protects a variety of pl...

---

Las Posadas This a fundraiser for the Broken Loaf food program and Showers of Blessings program ...

---

COME, EXPERIENCE SILENCE... every Thursday at 7pm at IB United Methodist Church. 30 minutes of...

---

Have Your Voice Heard on How Cannabis is Used and Handled in the City of Imperial Beach at the Pu...

---

12/11/2017

06:15PM — 08:00PM

Meeting Every Monday 6:15pm in Fellowship Hall at St James Church For More Info contact: Tim Li...

---

Emergency food assistance for homeless and low-income individuals within the Imperial Beach area....

---

The Sports Park Gym hosts The County of San Diego Aging and Independent Services free Tai Chi cla...

---

12/12/2017

12:00PM — 01:00PM

The Imperial Beach Woman's Club is a non-profit organization that raises money for the local orga...

---

With a Teen Only Room, Teens will be able to Enjoy the Special Teen Programs and much more @ the ...

---

12/12/2017

06:00PM — 07:00PM

Cub Scout Troop #866 Meeting Meeting Starts at 6pm in Fellowship Hall Martin Brandt for more in...

---

* Breakfast Devotion at The Wave Cafe' every Wednesday morning from 8:00 AM to 9:00 AM. * The Wa...

---