A Look into the Past and IB'S Sandcastle Events which created the Famous IB Legends, the IB Posse

Aug 31, 2014 12:05PM ● Published by Paul Spear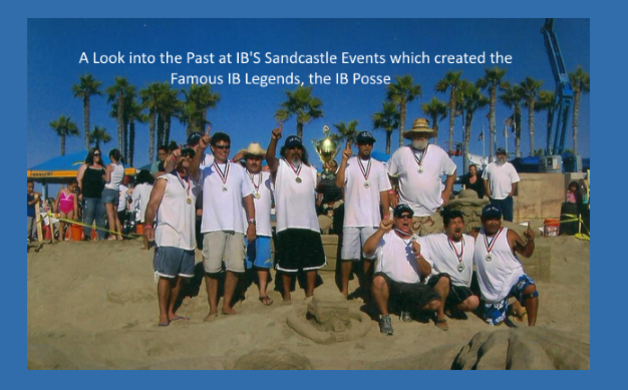 Gallery: A Look into the Past and IB'S Sandcastle Event and a Famous IB Local [17 Images] Click any image to expand.
A Look into the Past and IB'S Sandcastle Events which created the Famous IB Legends, the IB Posse. Leonard Gonzales takes a look into IB's Sandcastle history and tells about his family, friends and the event which made the IB Posse Legend
This article was written by Leonard Gonzales, founder of the very successful IB Posse. With the upcoming Sandcastle Competition, it's a fun time to look at past summers. Leonard was great and got some pictures so I could put together a "Photo Album to go with their story!
The IB Posse Timeline
The timeline of our team's existence has spanned over 30 years and endured several challenges along the way. It started in in 1984 when my Dad took us down to the beach to see the amazing sandcastles being created for in 4th Annual US Open Sand Castle Competition (USOSC). It was an event that was born from the Imperial Beach Sun and Sea Festival from the 1960's and 70's.  The USOSC in just a few years was drawing artists from around the globe to IB to compete for sizable prize money and recognition in a growing sport/art form.
Shortly after hitting the beach Dad ran into an old friend from the neighborhood, Mike Brindle. Mike was competing but a few of his team members were missing in action. After a few minutes of catching up Dad decided to step in and help complete a relief sculpture of the 1984 Olympic mascot. It wasn't overly impressive but it was enough to get the creative juices flowing and kicked started a family tradition that still lasts today.
The following year the whole family joined in to complete Mike's team "The Titans". Kids and adults alike were lugging water from the ocean, digging and chipping in to sculpt when the opportunity arose. I was 10 years old at the time and kids under 12 were allowed to help with no impact to the 10-man roster limit. Over the next couple years more and more friends and family came out to support us. In those days alcohol was allowed on the beach so the competition was much more like a party, at least for us. The family fun attitude and some real talent help us win numerous amateur titles which led to us trying our hand in the Masters category. The Masters were the teams that competed in competitions year around and for some sand sculpting was their only profession.
We found that cracking into the big-time wasn't easy and without the awards long sandy days in the sun were not so enjoyable. This led to arguments over artistic concepts and the value of each member. It also didn't help when alcohol was banned from the beach. Many of our reasons for fun were dwindling. In 1994 I decided I wanted to regain some of the personal enjoyment, so I told my dad and Mike I was going to split off and go back to the amateur ranks. The plan was to start a new team where our focus could be on having fun again and doing work that we related to. I named the team the "IB Posse" because at the time "posse" was being used in the Hip-Hop genre to describe a gang or entourage…and so that if we were ever able to gain any recognition it would be as the local team, from Imperial Beach.  
The rest is history.
1984- Ran into Mike Brindle competing in USOSC #4, needing help. Dad (Leonard Sr.) jumped in.
1985- The whole family showed up to help in USOSC #5.
1985 to 1994- Competed as "The Titans". Multiple 1st place awards in amateur categories, a few attempts at the Masters but no prizes.
1994- IB Posse broke off led by Leonard Jr. Trying to regain the fun of the event with an optimistic eye on future Masters conquests.
199?- First Masters prize, 2nd Place for "Wizard of Oz".
200?- First Masters 1st Place, "Sand Wars" (Star Wars).
2010- 1st Place ("Got Oil?") earned an invite to New Zealand.
2012- 1st Place New Zealand Sand Castle Competition in Christchurch.
2012- People's Choice Award in the IB Challenge at the first US Sand Sculpting Challenge on the B St. Pier, "Awaiting Fate" (Fall of the Aztec Empire).
2013- People's Choice Award in the IB Challenge at the US Sand Sculpting Challenge on the B St. Pier, "Theodore Geisel - Dr. Suess".
A big Thank you" to Leonard for putting this together for us and giving us a look into some of Imperial Beaches history of the Sandcastle Event from his perspective.
* Breakfast Devotion at The Wave Cafe' every Wednesday morning from 8:00 AM to 9:00 AM. * The Wa...

---

Enjoy a Free Turkey Dinner Served with Stuffing, Mashed Potatoes, Corn, Dinner Rolls, and Desert ...

---
Emergency food assistance for homeless and low-income individuals within the Imperial Beach area....

---

The Sports Park Gym hosts The County of San Diego Aging and Independent Services free Tai Chi cla...

---

Your Invited to a Thanksgiving Dinner at the Fleet Reserve Thursday November 23rd Food starts ...

---

COME, EXPERIENCE SILENCE... every Thursday at 7pm at IB United Methodist Church. 30 minutes of...

---
Stewardship volunteers perform a variety of duties, depending on their schedules and interests. D...

---

Come Out Friday Night and Sing Your Favorite Songs or Just sit Back and Enjoy the Fun as the Flee...

---

Every Friday Night Enjoy Classic VW's you can come down and see the Wolfpack VDub Car Club of Imp...

---
Showers of Blessings Program offers homeless individuals within the Imperial Beach area Military ...

---

Bodies in Motion at the IB Library Now Has a New Time, Enjoy the fun Every Saturday! Enjoy Bod...

---

Every 2nd and 4th Saturday, from 11:00am to 12:00pm. The Tijuana Estuary protects a variety of pl...

---

COME, EXPERIENCE SILENCE... every Thursday at 7pm at IB United Methodist Church. 30 minutes of...

---
It looks like we don't have any events for this date. You can always add an event.
Meeting Every Monday 6:15pm in Fellowship Hall at St James Church For More Info contact: Tim Li...

---
Emergency food assistance for homeless and low-income individuals within the Imperial Beach area....

---

The Sports Park Gym hosts The County of San Diego Aging and Independent Services free Tai Chi cla...

---

With a Teen Only Room, Teens will be able to Enjoy the Special Teen Programs and much more @ the ...

---
* Breakfast Devotion at The Wave Cafe' every Wednesday morning from 8:00 AM to 9:00 AM. * The Wa...

---

Enjoy a Free Turkey Dinner Served with Stuffing, Mashed Potatoes, Corn, Dinner Rolls, and Desert ...

---

Emergency food assistance for homeless and low-income individuals within the Imperial Beach area....

---

The Sports Park Gym hosts The County of San Diego Aging and Independent Services free Tai Chi cla...

---

Your Invited to a Thanksgiving Dinner at the Fleet Reserve Thursday November 23rd Food starts ...

---

COME, EXPERIENCE SILENCE... every Thursday at 7pm at IB United Methodist Church. 30 minutes of...

---

Stewardship volunteers perform a variety of duties, depending on their schedules and interests. D...

---

Come Out Friday Night and Sing Your Favorite Songs or Just sit Back and Enjoy the Fun as the Flee...

---

Every Friday Night Enjoy Classic VW's you can come down and see the Wolfpack VDub Car Club of Imp...

---

Showers of Blessings Program offers homeless individuals within the Imperial Beach area Military ...

---

Bodies in Motion at the IB Library Now Has a New Time, Enjoy the fun Every Saturday! Enjoy Bod...

---

Every 2nd and 4th Saturday, from 11:00am to 12:00pm. The Tijuana Estuary protects a variety of pl...

---

COME, EXPERIENCE SILENCE... every Thursday at 7pm at IB United Methodist Church. 30 minutes of...

---

Meeting Every Monday 6:15pm in Fellowship Hall at St James Church For More Info contact: Tim Li...

---

Emergency food assistance for homeless and low-income individuals within the Imperial Beach area....

---

The Sports Park Gym hosts The County of San Diego Aging and Independent Services free Tai Chi cla...

---

With a Teen Only Room, Teens will be able to Enjoy the Special Teen Programs and much more @ the ...

---

* Breakfast Devotion at The Wave Cafe' every Wednesday morning from 8:00 AM to 9:00 AM. * The Wa...

---

Emergency food assistance for homeless and low-income individuals within the Imperial Beach area....

---

The Sports Park Gym hosts The County of San Diego Aging and Independent Services free Tai Chi cla...

---

COME, EXPERIENCE SILENCE... every Thursday at 7pm at IB United Methodist Church. 30 minutes of...

---

Stewardship volunteers perform a variety of duties, depending on their schedules and interests. D...

---

Come Out Friday Night and Sing Your Favorite Songs or Just sit Back and Enjoy the Fun as the Flee...

---

Every Friday Night Enjoy Classic VW's you can come down and see the Wolfpack VDub Car Club of Imp...

---

Showers of Blessings Program offers homeless individuals within the Imperial Beach area Military ...

---

Celebrate the Season at the Imperial Beach Woman's Club Holiday Bazaar Saturday, December 2nd! ...

---

Bodies in Motion at the IB Library Now Has a New Time, Enjoy the fun Every Saturday! Enjoy Bod...

---

Every 1st, 3rd, and 5th Sunday of the month, from 3:00 to 4:00pm. Take a leisurely stroll down th...

---

COME, EXPERIENCE SILENCE... every Thursday at 7pm at IB United Methodist Church. 30 minutes of...

---

12/04/2017

06:15PM — 08:00PM

Meeting Every Monday 6:15pm in Fellowship Hall at St James Church For More Info contact: Tim Li...

---

Emergency food assistance for homeless and low-income individuals within the Imperial Beach area....

---

The Sports Park Gym hosts The County of San Diego Aging and Independent Services free Tai Chi cla...

---

With a Teen Only Room, Teens will be able to Enjoy the Special Teen Programs and much more @ the ...

---

12/05/2017

06:00PM — 07:00PM

Cub Scout Troop #866 Meeting Meeting Starts at 6pm in Fellowship Hall Martin Brandt for more in...

---

* Breakfast Devotion at The Wave Cafe' every Wednesday morning from 8:00 AM to 9:00 AM. * The Wa...

---

SANDAG ‎ Border to Bayshore Bikeway Community Meeting at the Imperial Beach Library Wednesday, De...

---

Emergency food assistance for homeless and low-income individuals within the Imperial Beach area....

---

The Sports Park Gym hosts The County of San Diego Aging and Independent Services free Tai Chi cla...

---

COME, EXPERIENCE SILENCE... every Thursday at 7pm at IB United Methodist Church. 30 minutes of...

---

Stewardship volunteers perform a variety of duties, depending on their schedules and interests. D...

---

Come Out Friday Night and Sing Your Favorite Songs or Just sit Back and Enjoy the Fun as the Flee...

---

Every Friday Night Enjoy Classic VW's you can come down and see the Wolfpack VDub Car Club of Imp...

---

Showers of Blessings Program offers homeless individuals within the Imperial Beach area Military ...

---

Bodies in Motion at the IB Library Now Has a New Time, Enjoy the fun Every Saturday! Enjoy Bod...

---

Every 2nd and 4th Saturday, from 11:00am to 12:00pm. The Tijuana Estuary protects a variety of pl...

---

Las Posadas This a fundraiser for the Broken Loaf food program and Showers of Blessings program ...

---

COME, EXPERIENCE SILENCE... every Thursday at 7pm at IB United Methodist Church. 30 minutes of...

---

Have Your Voice Heard on How Cannabis is Used and Handled in the City of Imperial Beach at the Pu...

---

12/11/2017

06:15PM — 08:00PM

Meeting Every Monday 6:15pm in Fellowship Hall at St James Church For More Info contact: Tim Li...

---

Emergency food assistance for homeless and low-income individuals within the Imperial Beach area....

---

The Sports Park Gym hosts The County of San Diego Aging and Independent Services free Tai Chi cla...

---

12/12/2017

12:00PM — 01:00PM

The Imperial Beach Woman's Club is a non-profit organization that raises money for the local orga...

---

With a Teen Only Room, Teens will be able to Enjoy the Special Teen Programs and much more @ the ...

---

12/12/2017

06:00PM — 07:00PM

Cub Scout Troop #866 Meeting Meeting Starts at 6pm in Fellowship Hall Martin Brandt for more in...

---

* Breakfast Devotion at The Wave Cafe' every Wednesday morning from 8:00 AM to 9:00 AM. * The Wa...

---