CAL FIRE Speaks to IB Chamber of Commerce

Aug 28, 2014 06:23PM ● Published by Paul Spear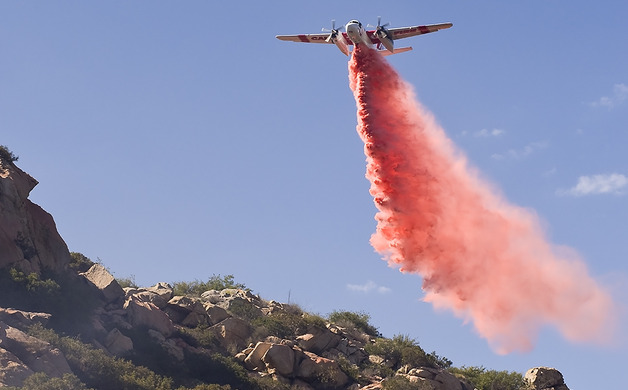 Gallery: CAL FIRE Speaks to IB Chamber of Commerc [10 Images] Click any image to expand.
Fire Captain Kendal Bortisser of CAL FIRE did an excellant presentation for the IB Chamber of Commerce Networking Thursday morning the 28th.
The bad news is we are in the middle of a major drought and need about 30 inches of rain in a year to get out of it. The good news is that we now have the best system in place for fighting fires that we ever have and can bring in more assets quicker than ever to fight these fires. A big part of that is the agreements amongst the various fire fighting agencies ever.
He did have a strong recommendation for those who live in fire danger areas. If you clean up the brush around your house and take all the steps you can to protect your property (like fire resistant roofs) they will do their best to help those people first. If you have made no attempt to make your property and house fire safe, there will probably be little they can do to help you!
Who is CAL FIRE
1.      Statewide is responsible for 31 million acres. In San Diego they are responsible for 1.2 million acres. This makes them the Largest Wildland Firefighting Air Fleet in the World
2.      CAL FIRE's Initial Attack Philosophy: Keep all 95% of all wildfires contained under 10 acres or less.
3.      CAL FIRE Statewide: 4,700 full time fire professionals, 2,400 seasonal firefighters, 2,600 Volunteers in Prevention, and 4,300 inmates and wards that provide 196 fire crew.
4.      CAL FIRE San Diego: 450 full time fire professionals, 140 seasonal firefighters, 20 to 30 Volunteers in Prevention, and 250 inmates and wards that provide 19 fire crew.
5.      CAL FIRE Equipment: 336 Fire Engines, 196 Emergency Crew Transports, 58 Bulldozers, 12 Emergency Communications Centers, and 12 Mobile Kitchen Units.
6.      CAL FIRE Aircraft: 13 Airbases,  23 Air Tankers (Fixed Wing), 15 Air-Tactical Command, and Control Aircraft, 10 Helibases  with 12 Helicopters (Rotary Wing)
7.      Inmate Hand Crews: 39 Conservation Camps with 196 crews and 4,300 inmate firefighters
Local Government Cooperative Fire: In San Diego County this is comprised of the San Diego County Fire Authority, San Diego Rural Fire District. San Miguel Fire District, Deer Springs Fire District, Pine Valley Fire District. Ramona Municipal Water District, and the Yuima Municipal Water District.
Outlook for the Rest of 2014: Recent rains have helped, but need several more months of non-stop rain. Hiring dedicated Defensible, Space inspectors to help homeowners prepare. Longer and warmer days ahead will only dry conditions out more and lead to potentially more fires.
See Awesome Photo Gallery below!
 Photo credit to: Kevin Pack (K.E. Pack Photography) and CAL FIRE
* Breakfast Devotion at The Wave Cafe' every Wednesday morning from 8:00 AM to 9:00 AM. * The Wa...

---

Enjoy a Free Turkey Dinner Served with Stuffing, Mashed Potatoes, Corn, Dinner Rolls, and Desert ...

---
Emergency food assistance for homeless and low-income individuals within the Imperial Beach area....

---

The Sports Park Gym hosts The County of San Diego Aging and Independent Services free Tai Chi cla...

---

Your Invited to a Thanksgiving Dinner at the Fleet Reserve Thursday November 23rd Food starts ...

---

COME, EXPERIENCE SILENCE... every Thursday at 7pm at IB United Methodist Church. 30 minutes of...

---
Stewardship volunteers perform a variety of duties, depending on their schedules and interests. D...

---

Come Out Friday Night and Sing Your Favorite Songs or Just sit Back and Enjoy the Fun as the Flee...

---

Every Friday Night Enjoy Classic VW's you can come down and see the Wolfpack VDub Car Club of Imp...

---
Showers of Blessings Program offers homeless individuals within the Imperial Beach area Military ...

---

Bodies in Motion at the IB Library Now Has a New Time, Enjoy the fun Every Saturday! Enjoy Bod...

---

Every 2nd and 4th Saturday, from 11:00am to 12:00pm. The Tijuana Estuary protects a variety of pl...

---

COME, EXPERIENCE SILENCE... every Thursday at 7pm at IB United Methodist Church. 30 minutes of...

---
It looks like we don't have any events for this date. You can always add an event.
Meeting Every Monday 6:15pm in Fellowship Hall at St James Church For More Info contact: Tim Li...

---
Emergency food assistance for homeless and low-income individuals within the Imperial Beach area....

---

The Sports Park Gym hosts The County of San Diego Aging and Independent Services free Tai Chi cla...

---

With a Teen Only Room, Teens will be able to Enjoy the Special Teen Programs and much more @ the ...

---
* Breakfast Devotion at The Wave Cafe' every Wednesday morning from 8:00 AM to 9:00 AM. * The Wa...

---

Enjoy a Free Turkey Dinner Served with Stuffing, Mashed Potatoes, Corn, Dinner Rolls, and Desert ...

---

Emergency food assistance for homeless and low-income individuals within the Imperial Beach area....

---

The Sports Park Gym hosts The County of San Diego Aging and Independent Services free Tai Chi cla...

---

Your Invited to a Thanksgiving Dinner at the Fleet Reserve Thursday November 23rd Food starts ...

---

COME, EXPERIENCE SILENCE... every Thursday at 7pm at IB United Methodist Church. 30 minutes of...

---

Stewardship volunteers perform a variety of duties, depending on their schedules and interests. D...

---

Come Out Friday Night and Sing Your Favorite Songs or Just sit Back and Enjoy the Fun as the Flee...

---

Every Friday Night Enjoy Classic VW's you can come down and see the Wolfpack VDub Car Club of Imp...

---

Showers of Blessings Program offers homeless individuals within the Imperial Beach area Military ...

---

Bodies in Motion at the IB Library Now Has a New Time, Enjoy the fun Every Saturday! Enjoy Bod...

---

Every 2nd and 4th Saturday, from 11:00am to 12:00pm. The Tijuana Estuary protects a variety of pl...

---

COME, EXPERIENCE SILENCE... every Thursday at 7pm at IB United Methodist Church. 30 minutes of...

---

Meeting Every Monday 6:15pm in Fellowship Hall at St James Church For More Info contact: Tim Li...

---

Emergency food assistance for homeless and low-income individuals within the Imperial Beach area....

---

The Sports Park Gym hosts The County of San Diego Aging and Independent Services free Tai Chi cla...

---

With a Teen Only Room, Teens will be able to Enjoy the Special Teen Programs and much more @ the ...

---

* Breakfast Devotion at The Wave Cafe' every Wednesday morning from 8:00 AM to 9:00 AM. * The Wa...

---

Emergency food assistance for homeless and low-income individuals within the Imperial Beach area....

---

The Sports Park Gym hosts The County of San Diego Aging and Independent Services free Tai Chi cla...

---

COME, EXPERIENCE SILENCE... every Thursday at 7pm at IB United Methodist Church. 30 minutes of...

---

Stewardship volunteers perform a variety of duties, depending on their schedules and interests. D...

---

Come Out Friday Night and Sing Your Favorite Songs or Just sit Back and Enjoy the Fun as the Flee...

---

Every Friday Night Enjoy Classic VW's you can come down and see the Wolfpack VDub Car Club of Imp...

---

Showers of Blessings Program offers homeless individuals within the Imperial Beach area Military ...

---

Celebrate the Season at the Imperial Beach Woman's Club Holiday Bazaar Saturday, December 2nd! ...

---

Bodies in Motion at the IB Library Now Has a New Time, Enjoy the fun Every Saturday! Enjoy Bod...

---

Every 1st, 3rd, and 5th Sunday of the month, from 3:00 to 4:00pm. Take a leisurely stroll down th...

---

COME, EXPERIENCE SILENCE... every Thursday at 7pm at IB United Methodist Church. 30 minutes of...

---

12/04/2017

06:15PM — 08:00PM

Meeting Every Monday 6:15pm in Fellowship Hall at St James Church For More Info contact: Tim Li...

---

Emergency food assistance for homeless and low-income individuals within the Imperial Beach area....

---

The Sports Park Gym hosts The County of San Diego Aging and Independent Services free Tai Chi cla...

---

With a Teen Only Room, Teens will be able to Enjoy the Special Teen Programs and much more @ the ...

---

12/05/2017

06:00PM — 07:00PM

Cub Scout Troop #866 Meeting Meeting Starts at 6pm in Fellowship Hall Martin Brandt for more in...

---

* Breakfast Devotion at The Wave Cafe' every Wednesday morning from 8:00 AM to 9:00 AM. * The Wa...

---

SANDAG ‎ Border to Bayshore Bikeway Community Meeting at the Imperial Beach Library Wednesday, De...

---

Emergency food assistance for homeless and low-income individuals within the Imperial Beach area....

---

The Sports Park Gym hosts The County of San Diego Aging and Independent Services free Tai Chi cla...

---

COME, EXPERIENCE SILENCE... every Thursday at 7pm at IB United Methodist Church. 30 minutes of...

---

Stewardship volunteers perform a variety of duties, depending on their schedules and interests. D...

---

Come Out Friday Night and Sing Your Favorite Songs or Just sit Back and Enjoy the Fun as the Flee...

---

Every Friday Night Enjoy Classic VW's you can come down and see the Wolfpack VDub Car Club of Imp...

---

Showers of Blessings Program offers homeless individuals within the Imperial Beach area Military ...

---

Bodies in Motion at the IB Library Now Has a New Time, Enjoy the fun Every Saturday! Enjoy Bod...

---

Every 2nd and 4th Saturday, from 11:00am to 12:00pm. The Tijuana Estuary protects a variety of pl...

---

Las Posadas This a fundraiser for the Broken Loaf food program and Showers of Blessings program ...

---

COME, EXPERIENCE SILENCE... every Thursday at 7pm at IB United Methodist Church. 30 minutes of...

---

Have Your Voice Heard on How Cannabis is Used and Handled in the City of Imperial Beach at the Pu...

---

12/11/2017

06:15PM — 08:00PM

Meeting Every Monday 6:15pm in Fellowship Hall at St James Church For More Info contact: Tim Li...

---

Emergency food assistance for homeless and low-income individuals within the Imperial Beach area....

---

The Sports Park Gym hosts The County of San Diego Aging and Independent Services free Tai Chi cla...

---

12/12/2017

12:00PM — 01:00PM

The Imperial Beach Woman's Club is a non-profit organization that raises money for the local orga...

---

With a Teen Only Room, Teens will be able to Enjoy the Special Teen Programs and much more @ the ...

---

12/12/2017

06:00PM — 07:00PM

Cub Scout Troop #866 Meeting Meeting Starts at 6pm in Fellowship Hall Martin Brandt for more in...

---

* Breakfast Devotion at The Wave Cafe' every Wednesday morning from 8:00 AM to 9:00 AM. * The Wa...

---