A Big "Thank you" to all those who Volunteer

Aug 19, 2014 11:22PM ● Published by Paul Spear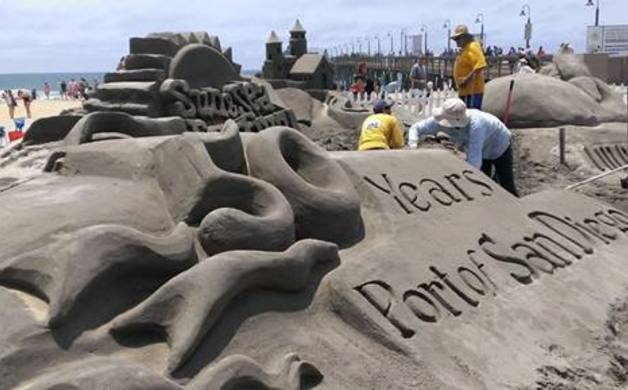 Celebrating 50 years for Port of San Diego - Major Financial Volunteer!
Gallery: 2014 Sun and Sea Festival [9 Images] Click any image to expand.
Sun and Sea Festival 2014 Volunteers Committee Credits
We wish we could list everyone in IB who volunteers but the people below are owed a special "Thank you" as well as all those who never get mentioned.
Event Chair – Leah Goodwin and Shirley Nakawatase (CO-CHAIRS)
Community Relations – Dan Kelley, Stephanie Kinnamon, Richard Pilgrim and Jean Willard
Communications – Nellie Hazel
Entertainment – Victor Tapia and Jaimy Wilkenson
Fund Raising – Sha-ron Cobb, Jasmine Decker, Leah Goodwin, Valarie Acevez and Nelle Hazel
Kid's n Kastles – Rico Toscano and Bill Zidbeck
Pancake Breakfast – Diane Linsdau and Richard Shaumberg
Parade – Erika Lowery, Mariko Nakawatase, Katie Patton, and Diane Rose
Sandcastle Competition – Valarie Acevez and Leonard Gonzalez
Sandcastle Ball – Nellie Hazel and Candy Unger
Street Fair – Kim Paris
Many people who help have been left off because they weren't a committee head and it gets hard to mention everyone. However, If you have a stoy a of a friend who helped or provided a service that made a difference, we would love to hear about it and receive any pictures or stories you may have.
Thank you,
619-630-9417
http://bit.ly/1pRwomn
Subscribe
* Breakfast Devotion at The Wave Cafe' every Wednesday morning from 8:00 AM to 9:00 AM. * The Wa...

---

Enjoy a Free Turkey Dinner Served with Stuffing, Mashed Potatoes, Corn, Dinner Rolls, and Desert ...

---
Emergency food assistance for homeless and low-income individuals within the Imperial Beach area....

---

The Sports Park Gym hosts The County of San Diego Aging and Independent Services free Tai Chi cla...

---

Your Invited to a Thanksgiving Dinner at the Fleet Reserve Thursday November 23rd Food starts ...

---

COME, EXPERIENCE SILENCE... every Thursday at 7pm at IB United Methodist Church. 30 minutes of...

---
Stewardship volunteers perform a variety of duties, depending on their schedules and interests. D...

---

Come Out Friday Night and Sing Your Favorite Songs or Just sit Back and Enjoy the Fun as the Flee...

---

Every Friday Night Enjoy Classic VW's you can come down and see the Wolfpack VDub Car Club of Imp...

---
Showers of Blessings Program offers homeless individuals within the Imperial Beach area Military ...

---

Bodies in Motion at the IB Library Now Has a New Time, Enjoy the fun Every Saturday! Enjoy Bod...

---

Every 2nd and 4th Saturday, from 11:00am to 12:00pm. The Tijuana Estuary protects a variety of pl...

---

COME, EXPERIENCE SILENCE... every Thursday at 7pm at IB United Methodist Church. 30 minutes of...

---
It looks like we don't have any events for this date. You can always add an event.
Meeting Every Monday 6:15pm in Fellowship Hall at St James Church For More Info contact: Tim Li...

---
Emergency food assistance for homeless and low-income individuals within the Imperial Beach area....

---

The Sports Park Gym hosts The County of San Diego Aging and Independent Services free Tai Chi cla...

---

With a Teen Only Room, Teens will be able to Enjoy the Special Teen Programs and much more @ the ...

---
* Breakfast Devotion at The Wave Cafe' every Wednesday morning from 8:00 AM to 9:00 AM. * The Wa...

---

Enjoy a Free Turkey Dinner Served with Stuffing, Mashed Potatoes, Corn, Dinner Rolls, and Desert ...

---

Emergency food assistance for homeless and low-income individuals within the Imperial Beach area....

---

The Sports Park Gym hosts The County of San Diego Aging and Independent Services free Tai Chi cla...

---

Your Invited to a Thanksgiving Dinner at the Fleet Reserve Thursday November 23rd Food starts ...

---

COME, EXPERIENCE SILENCE... every Thursday at 7pm at IB United Methodist Church. 30 minutes of...

---

Stewardship volunteers perform a variety of duties, depending on their schedules and interests. D...

---

Come Out Friday Night and Sing Your Favorite Songs or Just sit Back and Enjoy the Fun as the Flee...

---

Every Friday Night Enjoy Classic VW's you can come down and see the Wolfpack VDub Car Club of Imp...

---

Showers of Blessings Program offers homeless individuals within the Imperial Beach area Military ...

---

Bodies in Motion at the IB Library Now Has a New Time, Enjoy the fun Every Saturday! Enjoy Bod...

---

Every 2nd and 4th Saturday, from 11:00am to 12:00pm. The Tijuana Estuary protects a variety of pl...

---

COME, EXPERIENCE SILENCE... every Thursday at 7pm at IB United Methodist Church. 30 minutes of...

---

Meeting Every Monday 6:15pm in Fellowship Hall at St James Church For More Info contact: Tim Li...

---

Emergency food assistance for homeless and low-income individuals within the Imperial Beach area....

---

The Sports Park Gym hosts The County of San Diego Aging and Independent Services free Tai Chi cla...

---

With a Teen Only Room, Teens will be able to Enjoy the Special Teen Programs and much more @ the ...

---

* Breakfast Devotion at The Wave Cafe' every Wednesday morning from 8:00 AM to 9:00 AM. * The Wa...

---

Emergency food assistance for homeless and low-income individuals within the Imperial Beach area....

---

The Sports Park Gym hosts The County of San Diego Aging and Independent Services free Tai Chi cla...

---

COME, EXPERIENCE SILENCE... every Thursday at 7pm at IB United Methodist Church. 30 minutes of...

---

Stewardship volunteers perform a variety of duties, depending on their schedules and interests. D...

---

Come Out Friday Night and Sing Your Favorite Songs or Just sit Back and Enjoy the Fun as the Flee...

---

Every Friday Night Enjoy Classic VW's you can come down and see the Wolfpack VDub Car Club of Imp...

---

Showers of Blessings Program offers homeless individuals within the Imperial Beach area Military ...

---

Celebrate the Season at the Imperial Beach Woman's Club Holiday Bazaar Saturday, December 2nd! ...

---

Bodies in Motion at the IB Library Now Has a New Time, Enjoy the fun Every Saturday! Enjoy Bod...

---

Every 1st, 3rd, and 5th Sunday of the month, from 3:00 to 4:00pm. Take a leisurely stroll down th...

---

COME, EXPERIENCE SILENCE... every Thursday at 7pm at IB United Methodist Church. 30 minutes of...

---

12/04/2017

06:15PM — 08:00PM

Meeting Every Monday 6:15pm in Fellowship Hall at St James Church For More Info contact: Tim Li...

---

Emergency food assistance for homeless and low-income individuals within the Imperial Beach area....

---

The Sports Park Gym hosts The County of San Diego Aging and Independent Services free Tai Chi cla...

---

With a Teen Only Room, Teens will be able to Enjoy the Special Teen Programs and much more @ the ...

---

12/05/2017

06:00PM — 07:00PM

Cub Scout Troop #866 Meeting Meeting Starts at 6pm in Fellowship Hall Martin Brandt for more in...

---

* Breakfast Devotion at The Wave Cafe' every Wednesday morning from 8:00 AM to 9:00 AM. * The Wa...

---

SANDAG ‎ Border to Bayshore Bikeway Community Meeting at the Imperial Beach Library Wednesday, De...

---

Emergency food assistance for homeless and low-income individuals within the Imperial Beach area....

---

The Sports Park Gym hosts The County of San Diego Aging and Independent Services free Tai Chi cla...

---

COME, EXPERIENCE SILENCE... every Thursday at 7pm at IB United Methodist Church. 30 minutes of...

---

Stewardship volunteers perform a variety of duties, depending on their schedules and interests. D...

---

Come Out Friday Night and Sing Your Favorite Songs or Just sit Back and Enjoy the Fun as the Flee...

---

Every Friday Night Enjoy Classic VW's you can come down and see the Wolfpack VDub Car Club of Imp...

---

Showers of Blessings Program offers homeless individuals within the Imperial Beach area Military ...

---

Bodies in Motion at the IB Library Now Has a New Time, Enjoy the fun Every Saturday! Enjoy Bod...

---

Every 2nd and 4th Saturday, from 11:00am to 12:00pm. The Tijuana Estuary protects a variety of pl...

---

Las Posadas This a fundraiser for the Broken Loaf food program and Showers of Blessings program ...

---

COME, EXPERIENCE SILENCE... every Thursday at 7pm at IB United Methodist Church. 30 minutes of...

---

Have Your Voice Heard on How Cannabis is Used and Handled in the City of Imperial Beach at the Pu...

---

12/11/2017

06:15PM — 08:00PM

Meeting Every Monday 6:15pm in Fellowship Hall at St James Church For More Info contact: Tim Li...

---

Emergency food assistance for homeless and low-income individuals within the Imperial Beach area....

---

The Sports Park Gym hosts The County of San Diego Aging and Independent Services free Tai Chi cla...

---

12/12/2017

12:00PM — 01:00PM

The Imperial Beach Woman's Club is a non-profit organization that raises money for the local orga...

---

With a Teen Only Room, Teens will be able to Enjoy the Special Teen Programs and much more @ the ...

---

12/12/2017

06:00PM — 07:00PM

Cub Scout Troop #866 Meeting Meeting Starts at 6pm in Fellowship Hall Martin Brandt for more in...

---

* Breakfast Devotion at The Wave Cafe' every Wednesday morning from 8:00 AM to 9:00 AM. * The Wa...

---